Cancer Dietitian London
05/01/2020
Rachel Clarkson is a leading cancer dietitian in London who will help you create your optimal diet based on strong scientific evidence.
Rachel is highly qualified to help you, having undertaken many years of training.
And she has a specialist knowledge in the field of diet relating to cancer patients having trained at world-renowned oncology hospital The Royal Mardsen.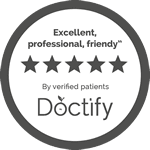 A member of the British Dietetic Association (BDA), Rachel holds a Masters degree in Nutritional Science from King's College London and has had research published in leading medical journals.
Just as important, though, is her personal commitment to patient care, always taking the time to fully understand your medical history and using this to create your bespoke diet plan.
This patient focused care is highlighted in the independent reviews for her private practice in London.
The reviews left on her Google profile are universally five stars, similarly on the Doctify site she averages 5/5 from dozens of verified reviews.
Recent reviews have said:
Patient 1
Rachel is a great dietitian and able to handle difficult cases. She is also passionate about what she does and constantly learning and up to date with all the latest research which is very important to me. 
Patient 2
Extremely knowledgeable and passionate about nutrition and diet. Explains things in an understandable way and provides advice and support that other dieticians have been unable or unwilling to do. I cannot recommend Ms Clarkson highly enough.
The Importance of Cancer Dietitians
Finding the right dietitian is of great importance to cancer patients, as recognised by Cancer Research UK and deciding who to choose is a major decision.
To get a sense of what a consultation with Rachel would entail, please watch the short video below in which she gives a sense of what to expect in that initial meeting.
Rachel also offers a free initial 10 minute phone conversation, a perfect opportunity to get a sense for whether she is the dietitian for you – if nothing else it will provide some free advice from a highly trained dietitian with specialist knowledge in cancer dietary advice.
If you would like to book an initial consultation, whether that is a free one over the phone, or in person, please visit her Consultations Page. Full fee information is also available – Rachel is always completely open about the cost of services.
Please also feel free to ask any questions through the Contact Form or call 020 7126 7101. 
Cancer Dietitian vs Cancer Nutritionist
One common area of confusion is deciding between a cancer dietitian or someone styling themselves as a nutritionist.
They key difference is that dietitian is a legally protected phrase and so can only be used by someone if they have carried out the requisite lengthy training and are approved.
Nutritionist, perhaps surprisingly, is not a protected term and so anybody can call themselves a nutritionist. You could set up a website today and call yourself a nutritionist.
Of course, this does not mean that all nutritionists are this unskilled, but, equally, there is no minimum level of knowledge. Any dietitian has a high level of knowledge, you are then choosing the right one for you from an extremely strong field. With nutritionists, you are left hoping that the person you opt for is basing their advice on more than just a whim.
Given the importance of getting it right when looking for dietary advice relating to cancer, it is recommended to please choose a dietitian, regardless of whether or not that is Rachel, rather than a nutritionist.
Next Steps
On this site, there is a wealth of information and you may wish to also look at Rachel's YouTube channel to get more of an insight into her work and ethos.
If you would like to book a consultation or simply require further information, please do get in touch through the Contact Form or call 020 7126 7101. 
Location of The Clinic
Rachel's clinic is based in London's Harley Street.
Harley Street is famed throughout the world for its prestigious maedical treatments and is conveniently lcoated to many famous places of interest like Madame Tussauds, Regents Park, Hyde Park and The Sherlock Holmes Museum
Rachel treats patients from all across the capital and people outside too. See below for directions from London's main train stations
Directions from Euston Station 
Directions from King's Cross St Pancras Station 
Directions from Paddington Station 
Directions from Liverpool Street 
Articles
30/08/2021
Weight Loss Diet Clinic London
Rachel Clarkson RD is the face behind the DNA Dietitian, a leading weight-loss diet clinic in London offering bespoke, personalised plans to help you lose weight based on your own DNA.
Articles
20/12/2019
IBS Dietitian Clinic London
For those seeking an IBS clinic in London, it is essential to choose someone proven, qualified and experienced in dealing with common IBS conditions.