Listen to the scientists… "Out with general dietary advice and in with a Perfectly Personalised diet based on your DNA!"
17/08/2020
We've all been there: started a diet, followed it strictly for a few weeks, started losing focus, and eventually gave up until we found the motivation a few months down the line to start again. It's a vicious cycle. Have you ever wondered if you would find a type of diet that you could follow long term? Well, scientists may have found the solution to our problem, and published a compelling new study in The British Medical Journal (BMJ) on dietary change and adherence… read on to find out more!
General dietary guidelines vs Nutrigenomic dietary advice
Most of the diets that have been followed for years are based on general dietary guidelines. This means public health authorities make recommendations to the general public on how to make healthier dietary choices. Some examples of this are reducing salt intake below 6g/day or consuming less than 12% of your calories from saturated fat sources.
So, what's the problem with these recommendations? It's a "one size fits all" approach. They are blanket recommendations that are applied to all adult members of the population.
So, what makes people so different from each other? GENES! Your DNA (your genetic makeup), is what makes you react and metabolise foods differently from anyone else! Genetics insights are not factored into general dietary advice which makes it difficult to apply to the whole population.
Personalised dietary advice or 'nutrigenomic' dietary advice is a branch of nutrition that develops unique guidelines for every person. These guidelines take into account your genetic variations (identified in a simple salvia test) as well as your medical history dietary, environmental, and lifestyle factors. These guidelines are truly tailored for YOU and so they can help optimise your health.
What are the benefits of nutrigenomic dietary advice?
A perfectly personalised diet for life
Nutrigenomic dietary advice is specifically tailored for you and your needs depending on the results from your genetic tests.
Identify potential deficiencies, intolerances, and many other food-related complications
Carrying out genetic testing can reveal so much about your body, including how fast you metabolise nutrients, if you are genetically predisposed to lower levels of a certain vitamin, or if you have a food sensitivity.
It is a form of preventative care to help enhance longevity
Nutrigenomic testing can reveal information about how to reduce your risk of developing diseases like heart disease, type 2 diabetes or obesity in the future based on your food choices. Imagine having the power to help reduce your risk of developing these diseases with the help of personalised nutrition especially for you!
Studies show it is more effective than general dietary advice!
Scientists have looked into whether personalised nutrition advice (based on nutrigenomic testing) encourages people to change bad lifestyle and eating habits long term compared to general dietary advice (the one size fits all model) and the results look very promising and favour personalised advice!
What is scientific research telling us?
A study published in the BMJ this year aimed to investigate if genetic-based dietary advice for weight management would motivate individuals to stick to these dietary changes long-term compared to population-based advice.
The study compared one of the most effective public health weight management programs and nutrigenomic personalised dietary advice. Half the participants in the study followed the normal weight management program and the other half followed the normal weight management program in addition to nutrigenomic personalised dietary advice. Overall, the study found that nutrigenomic dietary advice can motivate individuals to stick to diet changes for longer periods than population-based advice!
The participants that received the nutrigenomic advice reduced their total fat intake across the 12 months, whereas the participants that received general dietary guidelines on the normal weight management program did not.
The study also showed that participants with pre-diabetes were more motivated to stick to long term dietary changes than people who had a BMI greater than 30kg/m2 (obese). Which is interesting, because those participants who were only classed as obese that had received the personalised nutrigenomic advice were almost equally as motivated as the pre-diabetics!
This study along with others published over the past couple of years shows how powerful nutrigenomic-based advice can motivate people to make drastic changes in their lifestyle compared to general dietary advice we've all previously settled for.
The best part?
Personalised dietary advice isn't available solely for participants in research studies! The same nutrigenomic test used in this study (that was more effective than general dietary advice) is used in our clinic to help our clients start Eating the DNA Way ® to lose weight, improve digestion, and much more! Book your complimentary discovery call to find out more!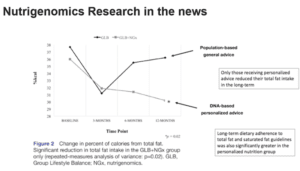 Articles
29/11/2023
Online Nutritionist
Looking for a vegan nutritionist in London for optimum health and wellbeing with a plant-based diet? The DNA Dietitian can help.