Nutritionist for weight loss
02/08/2022
Utilising the skills of a professional nutritionist for weight loss is the key to maintaining a healthy and balanced lifestyle. Rachel Clarkson, also known as The DNA Dietitian, is the mastermind behind The DNA Way – a revolutionary way to help you lose weight without sacrificing your mood, energy or lifestyle.
If you're stuck in an endless cycle of fad diets, you are not alone. So many of us struggle to break free from the monotonous routine of losing weight, only to gain it all back again some time later. Healthy eating habits are the best way to ensure consistent, long-term and healthy weight management. Incorporating Rachel's recommendations into your daily routine could help you with better management of your body weight.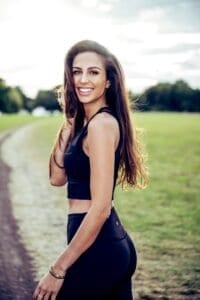 Download Rachel's free weight loss guide now, or contact her directly for more information about healthy weight loss with a complimentary discovery call. Rachel operates out of The DNA Dietitian clinic in London's Harley Street, and is also available for remote dietary advice.
How can a nutritionist help with weight loss?
Qualified nutritionists and dietitians can help you to lose weight by working with you to craft a personalised, healthy diet plan. With Rachel's help, you could start your weight loss journey with a better understanding of what a balanced diet actually means for you, based on your DNA. Uncover the foods that work best with your genetic make-up, and understand why certain foods cause weight gain while others could help you with weight loss.
Your eating habits may change once you discover the true health benefits of choosing the right foods and lifestyle for your body and mind. A nutritionist or dietitian not only helps with weight loss, they can also give you a better understanding of your overall digestive health and dietary habits.
A holistic and safe approach to weight loss
Rachel's approach to nutrition and diet is centred on giving the body what it needs, without sacrificing the things you love. Yes, it's possible to achieve healthy weight loss while continuing to enjoy your favourite foods and lifestyle. Rachel is a qualified professional who has worked with patients with eating disorders and other health issues.
Achieving your weight loss goals need not seem like an uphill battle. Having realistic goals and a sensible nutrition plan in place are the starting points for your weight loss journey. With tailored, personal advice, Rachel can equip you with the knowledge, support and an achievable diet plan to get you where you need to be.
Aside from weight loss, working together with The DNA Dietitian on your food intake can bring other health benefits including:
Reduced risk of disease

Better sleep and nighttime routine

Improved gut health

Increased energy

Enhanced mood

Sharper memory

Supported fertility

Balanced hormones

Improved mental health
Where to start with weight loss
You've likely heard similar phrases to 'move more', 'eat better', and 'eat less' when it comes to the main components for weight loss. Many would say it's not rocket science. But what if there actually is a science behind weight loss? Every individual's body is unique. We respond to food groups and lifestyle changes differently, due to our genetic make-up and personal circumstances. When it comes to weight loss, a one-size-fits-all approach simply will not work.
The DNA Dietitian can help you to understand your body composition, as well as any underlying health conditions that could be impacting your ability to lose weight. You'll learn how to make healthier foods a part of your day-to-day routine, to support weight loss in a healthy manner.
Work with a nutritionist for long-term weight loss
Rachel's expertise as a registered nutrigenomic dietitian stands her in good stead to show you how to feed the body for both the inside and out. Not only could you lose weight, you could maintain a healthy weight for good by understanding and utilising the nutritious foods that work in harmony with your body and not against it. Avoid the fad diets that only seek to provide a temporary and sometimes damaging short-term solution.
With dietary advice from a registered dietitian, you could achieve your desired weight in a healthy way, with just a small lifestyle change. 
Start your weight loss journey
For more information about how The DNA Dietitian could help you with long term weight loss, please fill out the contact form.
The DNA Dietitian, Rachel Clarkson, operates from 10 Harley Street, London, W1G 9PF and online via tele-health consultations.
The DNA Dietitian
10 Harley Street
London
W1G 9PF
Articles
30/06/2022
IBS Nutritionist
If living with Irritable Bowel Syndrome is impacting your life in a negative way, discover how help from an IBS nutritionist could bring you long-lasting relief.