Weight Loss Dietitian London
05/01/2020
With universally five star ratings from independent, verified reviews, Rachel Clarkson – the DNA Dietitian – is a weight loss dietitian in London who will empower you to achieve your goals and then maintain your new body.
A member of the British Dietetic Association, Rachel is vastly qualified and experienced, having trained and undertaken a Masters Degree in Nutritional Science at King's College London and then trained at further world leading institutions. 
Rachel also specialises in the groundbreaking science of Nutrigenomics, this the study of the link between your genetics, nutrition and your health.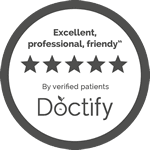 The report Rachel is able to provide comes through an FDA approved test that has been developed by Harvard trained, world renowned professors.
You can see the level of detail specific to each individual this report goes into by seeing an example report – as you will see the full profile then leads to detailed, yet easy to follow advice that is septic for that person.
For weight loss this is invaluable and there are few weight loss dietitians in London who can offer this level of insight to the individual.
Rachel also explains more about the report in the short video below.
Of course, weight loss dietary advice does not have to include this level of DNA insight, more traditional methods can be used too.
Rachel is committed to treating each client as a true individual, taking the time to get to understand their health and medical history, their goals and their lifestyle.
This is achieved through detailed consultations, to get a sense of what an initial consultation would include please watch the video below.
There is also the possibility to have a free 10 minute phone consultation, this a great way to get a sense for what Rachel has to offer and if she is the weight loss dietitian for you. If nothing else, you will get some superb free advice from a leading expert in the field!
There is further information about the free 10 minute consultation in the video below.
It is, of course one thing to speak of having an ethos, but what do those who have used Rachel's services say?
Fortunately, the reviews are universally positive and these verified, independent reviews on Google and the Doctify site – please take the time to read some via the links below.
Many of the reviews reference the expertise in providing tailored dietary recommendations to aid with weight loss – the following are all taken from the Doctify reviews linked to above.
Review 1
I'm so impressed and have lost 10 pounds in my first month since Rachel. Her empathetic nature sets her apart and she approached my complex weight issue in a holistic manor. I feel so supported! 
Review 2
I went to the clinic yesterday, Rachel is extremely knowledgeable and professional. I am really pleased I started this journey for the weight management with her. I am also happy about my progress and she is able to make you understand why you eat different things and also she helped me with different suggestions. During the visit yesterday we spoke about what I ate and what I can improve, we tried to identify barriers and how to overcome these, and I found this very helpful in order to achieve my goals. Rachel also made me feel very comfortable during the session. 
Review 3
What an amazing experience. After years of health problems and weight issues, and generally being stuck in a rut, Rachel came into my life and it's all changed for the better. I am losing weight, feeling happy, satisfied and full! So excited to see the end results. I never thought it was possible to get there! Thank You Rachel for you patience, knowledge and kindness.
Weight Loss Dietitian vs Weight loss Nutritionist
This level of support is only available through a dietitian. There is often a very natural confusion as to whether it is best to choose a dietitian or a nutritionist, both terms seem similar.
In reality, the two roles are very different. Dietitian is a legally protected term and as such you can only call yourself a dietitian if you are highly trained and then approved. In choosing a dietitian you are choosing from a very high standard of individuals.
Nutritionist, however, is not a protected term and so, incredible as it might seem, anyone can set up a website and call themselves a nutritionist. Advice from nutritionists is therefore often cheaper – it could be any advice, recycled, not specific to the person, or just plain inaccurate or even detrimental to health.
This isn't to say that all nutritionists offer junk advice, but in choosing someone using this title there is not guarantee of quality.
If you want advice, support and a plan that leads to genuine continuing weight loss and huge overall health boosts then a dietitian should always be sought instead of a nutritionist.
Next Steps
On this site, there is a wealth of information and you may wish to also look at Rachel's YouTube channel to get more of an insight into her work and ethos.
If you would like to book a consultation or simply require further information, please do get in touch through the Contact Form or call 020 7126 7101. 
Location of The Clinic
Rachel's clinic is based in London's Harley Street.
Harley Street is famed throughout the world for its prestigious maedical treatments and is conveniently lcoated to many famous places of interest like Madame Tussauds, Regents Park, Hyde Park and The Sherlock Holmes Museum
Rachel treats patients from all across the capital and people outside too. See below for directions from London's main train stations
Directions from Euston Station 
Directions from King's Cross St Pancras Station 
Directions from Paddington Station 
Directions from Liverpool Street 
Articles
20/12/2019
IBS Dietitian Clinic London
For those seeking an IBS clinic in London, it is essential to choose someone proven, qualified and experienced in dealing with common IBS conditions.